Humana, Kaiser have highest customer satisfaction ratings
Humana and Kaiser Permanente were the two health insurance providers with the highest customer satisfaction scores, according to the American Customer Satisfaction Index (ACSI) Financial & Insurance Report 2018.
The report measures satisfaction scores from approximately 250,000 customers across multiple industries on a scale of 1 to 100. Across the healthcare industry, health insurance is "by far, the most problematic and least satisfying category in the sector," according to the report.
Overall, customer satisfaction with health insurance has remained flat over the last two years, with a score of 73. Humana and Kaiser Permanente both received scores higher than the average, at 78, though both declined 1 point from 2017.
Policyholders noted Kaiser is quick to process claims and offers the best prescription coverage. Humana has better access to primary and specialty care, policyholders stated.
The only two insurers on the list with gains were Aetna (75), which rose 1 point from 2017, and Cigna (73), which jumped 11 points from 2017. Both companies are undergoing separate mergers. Aetna is in the process of being acquired by CVS Health, while Cigna recently merged with Express Scripts. Aetna also has the top-rated mobile app in the industry, while Cigna has the lowest complaint rate.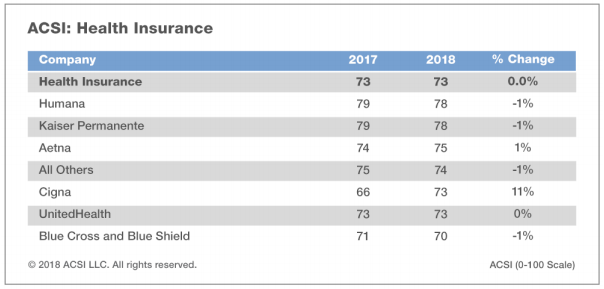 UnitedHealth scored a 73, unchanged from 2017. Blue Cross and Blue Shield dropped to the bottom of the list with a score of 70, declining 1 point year over year.
From 2017 to 2018, several industry benchmarks of customer experience improved, including better access to primary care doctors (80), coverage of standard medical services (77) and range of plans available (74).
Call center satisfaction dropped the most year to year and had the lowest satisfaction score at 71. Reliability of mobile apps rated highly at 79, as did the quality of mobile apps at 78.
See the full report here.